Exclusive importers of SINAP membranes for Italy, Slovenia and Croatia.
Membrane Bioreactors (MBR) combine the membrane-based liquid-solid separation process (often microfiltration or ultrafiltration) with the traditional activated sludge biological process. The effluent obtained is of sufficient quality that it can be reused for industrial purposes or irrigation, with no additional treatment. SINAP flat sheet membranes (which are also compatible and interchangeable with other brands of membrane) enable us to build compact plants that have efficient water treatment cycles and comply with legal parameters. Contact us for information.
SINAP membranes: safe, universal and resistant
SINAP flat sheet membranes allow safe operation and can be adapted to any specific wastewater treatment requirement. These ultrafiltration membranes are made of PVDF, a high-performance material that is not particularly prone to fouling, and its characteristics of high mechanical resistance and chemical inertness make it the most widely used specifically for MBR application.
SINAP membranes are easy to clean
In treatment plants equipped with SINAP Membrane Bioreactors it is possible to perform filtration with sludge concentrations above 20 grams per litre. The technology employed is cross-flow filtration (tangential). The membranes can be easily cleaned using specific chemical products: sodium hypochlorite for organic deposits or citric acid for inorganic fouling.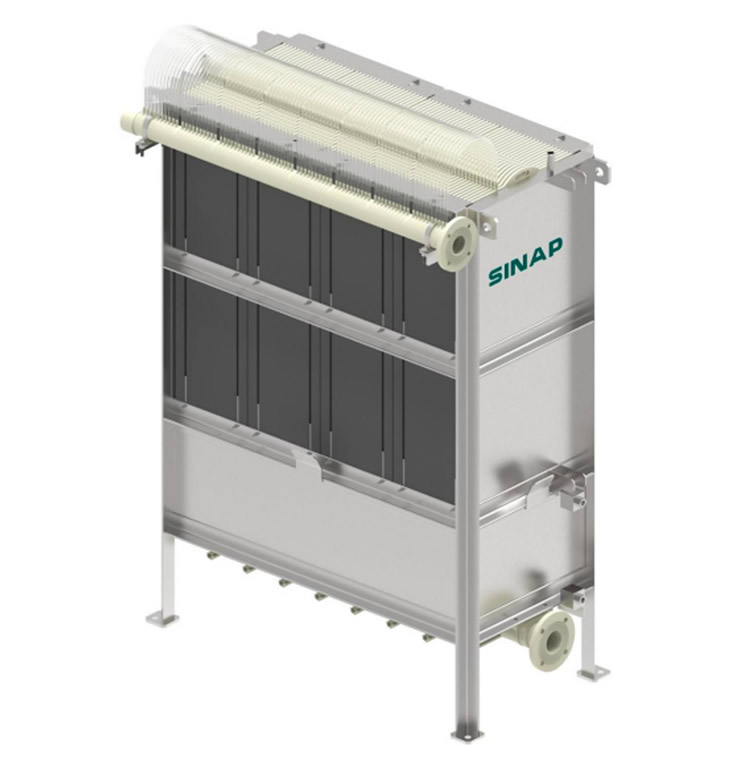 SINAP membranes are suitable for many applications
From the agri-food industry to biogas digestate: the multiple applications of SINAP membranes
SINAP membrane technology guarantees design flexibility, control of treatment process sustainability and excellent quality ultra-filtered water. SINAP membranes can be applied in many sectors, including: civil, agri-food, laundries and dye works, chemical, pharmaceutical and industrial. With our technical department and warehouse we can guarantee prompt support and maintenance so that plants do not need to stop operation.